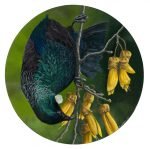 Long Business Description
Multi-media art for Mark is a balance between creative instinct and technical skill.  Mark works with a variety of opposing, yet complimentary mediums providing a balance of harmonious achievement and creative accomplishment.
Where Mark's paintings portray meticulous realism, his sculptures take on a more fluid and contemporary form. Successful execution offers a strong sense of personal fulfilment, creating lifelong pleasure for both himself and the viewer.
Mark is mostly inspired by nature's flora and fauna. He also takes stimulus from a range of artists including his 2nd great-grandfather, Samuel Horatio Moreton (1842-1921). Mark focuses attention on his interpretation of these visual stimuli and works to show an emotional connection within each of his art pieces.
Mark has achieved a number of awards for both his public and private art commissions, as well as within the sign-writing industry.  Mark sells his artworks locally, nationally and internationally.
Business Address
Clarkville, Waimakariri