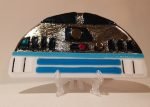 Long Business Description
I am a fused glass artist working from my garage/studio. I have been passionate about glass for as long as I can remember and have a degree in Stained glass (and music!). I am a part time Special Needs teacher but love to spend the rest of my time creating and exploring what glass can do!
I love quirky, retro,
interesting pieces and like to reuse or recycle as much of my glass as I can - almost zero waste! I accept commissions and will work with you to get the piece you want.
You are welcome to visit me in my garage studio Monday or Friday between 10 and 2, and Saturdays or Sundays by arrangement. Please call first to avoid disappointment.
Business Address
Taniwha St, Pegasus, New Zealand