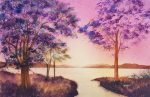 Long Business Description
I paint both watercolours and oils.
Statement.
"The world around me is where I draw my ideas and inspiration from.  Trees, mountains and water together with plants and flowers that live in the environment along with music, create my spiritual world.  When I paint I want to capture the wonders that surround us and in turn ask the viewer in to use their own imagination and experiences to make sense and meaning for themselves.
The atmosphere and mystery help create paintings because of the beauty all around us.  I am continually looking for ways to push the boundaries and find the light.  Our New Zealand South Island landscapes provide an infinite source of ideas and material.
I have been so fortunate to learn from great teachers who have helped me enormously.  I take far more risks now and am constantly learning and experimenting.  Painting is a joyful and happy experience which I am privileged to share. "
Instagram:  carolmoffattartist